Few times in life does someone get the opportunity to try again.
There are also few major life events that occur repeatedly, except for pregnancy.  This is a huge life-altering event for all those involved, the mother, father, extended family and friends of the family.  For some women it occurs multiple times in their life and for others never.
Having babies in Malawi is the cultural norm once you are of marrying-age (around 18 years old). Judith's first two pregnancies happened at a young age in any culture, and now at 20 years old, she can finally hold her 1 living child.  Like so many women in Malawi she delivered her first two babies at home with the help of family.  Both of those babies died within the first day of life.  She doesn't know why they died, just that they did not survive.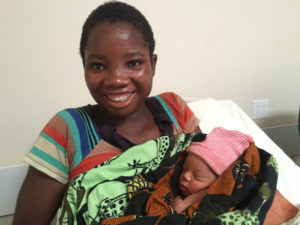 Also, like so many women in our area, Judith got malaria at 7 months of pregnancy and went into labour early (known as preterm).  Instead of staying home though, she came to Child Legacy Hospital for help.  She heard about our maternity ward from others in her village and that it is a safe place to have a baby.  Actually, Judith traveled about a day's journey to come to our facility because she lives in a village across the border in Mozambique.  We have medications to stop labour and others to help stimulate the baby's lungs to develop early, but unfortunately Judith arrived about an hour before she delivered and was not able to get those treatments in time.
Luckily, she chose to come to a health facility with skilled health providers who knew how to help her small and premature baby boy.  He was born weighing 2230g (4lbs 14 oz) but was also born fighting and required no extra help breathing after he arrived.  These little ones have a hard time "maintaining their core temperature" (staying warm on there own) and sometimes they have difficulty feeding, so we keep all of our preterm and low birth weight infants (less than 2500g or 5lbs 8oz) in the hospital at least 48 hours to make sure they are thriving before we send them home.  Sometimes they are here for longer depending on their weight and how well they feed after birth.  Judith was able to go home after 3 days at CLI Hospital with a healthy and growing son.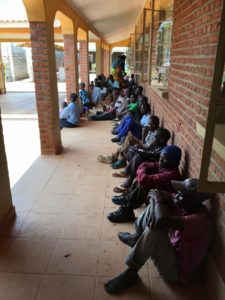 We have mentioned before how terrible this malaria season is in Malawi and with the rainy season arriving late and staying later, the mosquitos are everywhere and malaria season will be extending strongly into May.  The CLI Outpatient Department is still seeing over 1000 patients a week for the last 6 weeks and the numbers continue to rise, with last week at an all time high of 1,322 patients.
There is so little we can do to protect the pregnant women in our area from getting malaria, since most of them receive the medication to prevent it (SP) but it is just not effective enough.  Instead, we are left to try hard to prevent delivery of their premature babies and also do as much as we can to help those that are born premature to survive.
It has been exhausting over the past several months, and we are so thankful to all the clinic staff who have worked so hard to provide the best care possible to the patients.
 2 weeks ago Jenny's parents came to Malawi to visit, and then we all went to Cape Town (in South Africa) for a few days before they flew back to the Unites States.  It was great to get a little time off and spend some time with family.  They had never been to Africa before and its always interesting seeing things again for the first time through their eyes.  There are so many things that have become normal to us because we live in Africa that we forgot how strange they seem to others.  Here are just a few:
Bicycles with 3 or 4 people on them (none with helmets).
A heard of cows stopping traffic on a major freeway and they people responsible for herding the cows sometimes are junior high age.
All the things women can carry on their head
Dogs trying to commit suicide by sleeping in the middle of the road.
Planning when you will charge your phone around when you know you will have electricity. (outside the CLI site since
we are blessed to have solar)
Old man standing outside his mud hut talking on his mobile (cell phone)
Lack of rubbish bins in public places.
Using the words "rubbish bin" because NO ONE has any idea what you are talking about when you ask for a trashcan.
 Small girls (7-8 years old) carrying infants tied to their backs.
 Small children screaming, "Azungu give me money" at your car as you drive though their village.
 The thrill of your phone getting 3 bars of 3G service (forget about 4G, what is LTE?)
 Loosing count of how much water you drink in a day and how much you are actually sweating.
 Using a hot coal iron to press clothing
 Driving on the left side of the road and round-a-bouts (thank the Brits)
 Calling the traffic lights "robots"
Unattended goats moving as a pack on the side of the road.
Goats suddenly running across the road, or slowly taking their time across the road.
Goats standing on top of the random rock
Goats everywhere!
Currently, we have been back in Malawi serving at the hospital for the last two weeks and getting adjusted again after our brief time away.  Sophia is healthy and growing well.  She is now saying her first word, which is DADA.  So maybe reading Jimmy Fallon's book "Your Baby's First Word Will Be DADA" 5 nights a week for the last 6 months made an impression.  We are so thankful to have a happy, healthy baby.
Again, we continue to pray and praise God for all the support that everyone has shown us though prayer, emotional support, and financial support.  We ask that you continue to pray for all 3 of us as we serve in Malawi.  Pray that God continues to give us strength as we serve.
-Jared, Jenny, & Sophia