Fasten your seat belts! Well, a month ago when we took off from Houston, we not only had to fasten our seat belts but we had an extra attachment seat belt that Sophia had to wear during take off and landing.  We had no idea what to expect flying with an infant for over 30 hours half way across the world, but we found out that Sophia was a great flyer.  Well at least when she was 3 months old.  We are pretty sure that it won't be quite as enjoyable when she is 9 months or a year and she doesn't want to stay in a lap or the seat.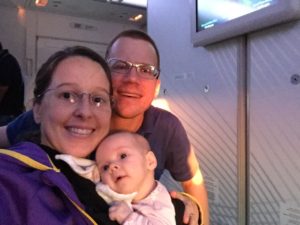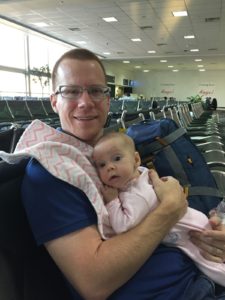 Our first leg of our journey was from Houston to Doha, Qatar, which was fifteen hours.  Sophia probably slept for about ¾ of the total flight time.  Much of that time was in the bassinets that were provided which were very helpful.  The second leg from Doha to Johannesburg was 7 hours and also went pretty well.  On the final leg of our trip, from Johannesburg to Malawi, Sophia finally let us know that she was done with flying and screamed almost the whole 2.5 hour flight to Malawi.  While we don't want to go on that long of a journey anytime soon, we are glad and thankful that we made it safely to Malawi.   We are also thankful that we were able to get a humanitarian fare with Qatar Airways, which allowed us to bring seven free bags as well as a stroller on our journey.  This allowed us to pack enough baby clothes and other baby items for the next year.
When we left Malawi in June it was just starting to get a little cooler since there winter months are July and August.  In the winter here, it will sometimes get into the 40's (Fahrenheit) at night and is very pleasant during the day.  That was not the case when we stepped off the plane in Lilongwe, Malawi a few weeks ago.  It was in the 90's and about as hot as it could get here.  It did not take very long to start sweating once we got off of the plane and walked on the tarmac to the bus that would take us to the terminal. I'm also not sure if we have stopped sweating since.  One of the things that we got a little too use to in the States was air conditioning, and it has taken some time over the past couple weeks to get use to not having it.  Thankfully, in a couple weeks it will start raining more and cool things off a bit during the day as we enter into the rainy season.
Of course, one of the most challenging things that we expected was adjusting to life with a baby. However while the first week was a little rough, Sophia has begun to adjust and is doing much better in the last two weeks.  Of course, with the time change (Malawi is 8 hours ahead of Houston) Sophia's sleep schedule was off so she was waking up every couple hours to feed and play.  Now, however she has adjusted and sleeps for 6-8 hours at night, which has been a blessing.  Jenny has been working half-days in the clinic/hospital as Sophia has been adjusting.  Dorika, our nanny and housekeeper is doing a great job caring for her while we are at work.
While it has been a busy last couple weeks at the clinic/hospital, it was good to get back to work and serve as God has called us to do in Malawi.  We are also very excited that the Maternity Ward has opened up.  In the last month, over 40 infants have been delivered at Child Legacy Hospital.  So Sophia now has plenty of company when it comes to babies being around.  I have enjoyed examining and taking care of the infants daily when they are born, before they go home and then also seeing them again at their follow up appointments.  One new thing we have started is taking a picture of the mom and infant before they are released to go home.  We get the photos printed in town at a print shop and give to them to the moms at there follow up appointment.  They are really excited when they get a picture that they can then show to the other moms and family members.
Many of the women and families are thankful that there is a hospital in this rural setting where they can go that is clean and the staff is well trained and friendly.  In rural Malawi, many women do not go to the hospital to have their babies but instead deliver in their villages where traditional birth attendants will assist in delivering the infants.  Most of the time, the traditional birth attendant is just a women who has had success in the past helping other women deliver in the village.
Unfortunately, these births take place in unsanitary conditions with unclean instruments and the birth attendants are not formally trained.   This is one of the reasons that contribute to the high number of maternal and neonatal deaths in Malawi.  In the past year, prior to opening the Maternity Ward, we have had several neonatal deaths and some maternal deaths in the surrounding villages.  This is one reason that we thank God the Maternity Ward is now open.   Over the past several weeks, there were several infants, which would have died if they had delivered in the villages or even at some of the other rural hospitals in Malawi.
One of those babies was born this week when its mother delivered rather soon after coming to the Maternity Ward.   The infant was premature and a little less than three and a half pounds (about 1600g) and needed help breathing shortly after birth.  The CLI staff and I were able to stabilize the infant and then the ambulance was used to transport the infant on oxygen to the central hospital in the capital.   At the central hospital the infant was placed on continuous positive airway pressure (CPAP) to better support the premature infant's breathing.  We are so blessed to have an ambulance with the capabilities to provide oxygen as we transported the infant over 40 minutes away to the capital. The nurses, clinical officers, and ambulance driver worked very well together and we are thankful to God that He has created such a team to serve our community.
We have also been seeing patients in the Outpatient Department (OPD), which is busy, but not nearly as busy as it will be in the weeks and months to come as we move toward the "rainy season" which means we will be seeing a lot more malaria.   As a clinic, all of the clinicians, nurses, and staff work together to see around 400 patients a week.  This number will increase dramatically and we will likely see between 300-400 a day during Malaria Season.  Jenny has been spending some time in the clinic as well as some time at home with Sophia.  Next week, she will start working daily in the OPD and on-call in the Maternity Ward where there has also been an increasing number of patients over the past several weeks.
With all of the changes, like Sophia and work and CLI being a hospital now, there have been some difficult and tiring days.  We have been praying, and we continue to ask for your support and prayers as we go through all of these transitions.  It was great to get to go into the city today and go to church and then to lunch with some really good friends.  We pray that God will continue to place people around us that will give us the support that we need as we serve here.
Over the past month and a half we have been continuing to work to find additional financial support.  We will have another post soon to give a financial update. We continue to pray for additional financial support in order to serve as God has called us.  We pray that additional people will partner with us both monthly and also give one-time gifts to help cover some of the expenses we mentioned in our last blog update.
Your support allows us to continue serving the people of Malawi.  We are forever humbled and grateful for all the generous hearts that have supported us in the past, support us now, and in the future.
-Jared, Jenny, & Sophia